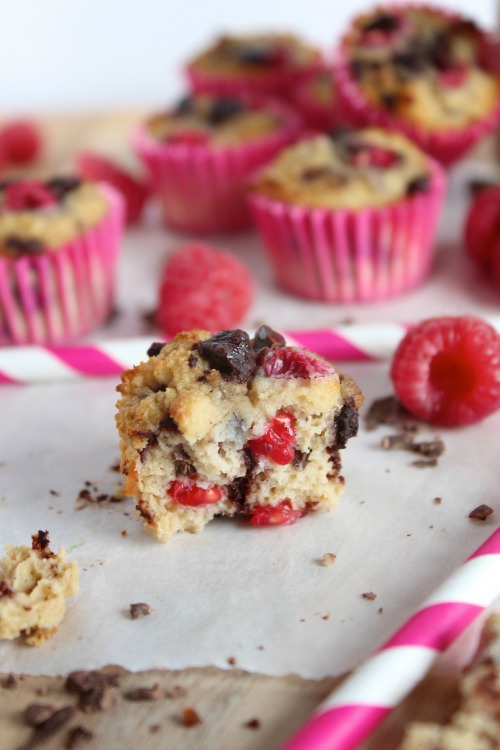 We are all moved in, we are all unpacked, we are all slowly but surely starting to recover from the massive week that was!
Ugh it feels good to sit for a minute and just breathe.
We have tested out new walk to school.
We have tested our new local cafe and now comes the moment of truth . . . time to test out the new oven.
Today's test it out tuesday recipe is not only the testing of a new (insanely delicious) recipe but also testing out the new oven and I gotta tell you, I'm loving both today's recipe and the new oven (← insert totally dorky and extremely embarrassing happy dance and virtual 5 fives and fist bumps here).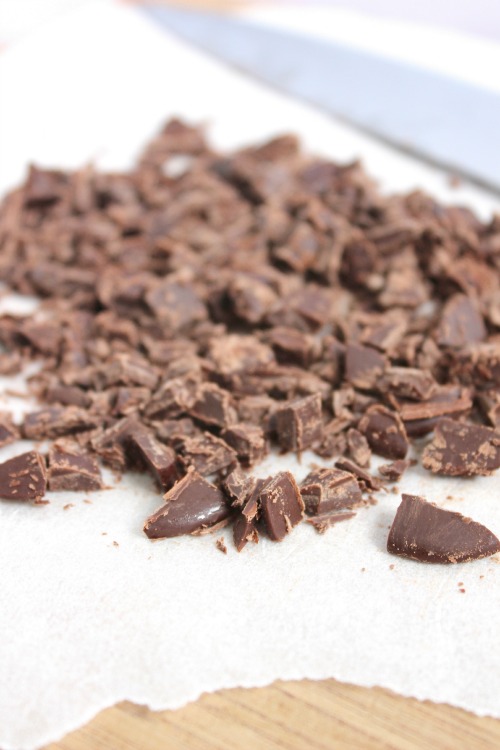 If we are being totally honest I should tell you that I am loving our new apartment, period. It feels a little bigger, more open and homely, so far no noisy neighbours, there is amazing coffee close by and have you seen the view?!
Yep total keeper.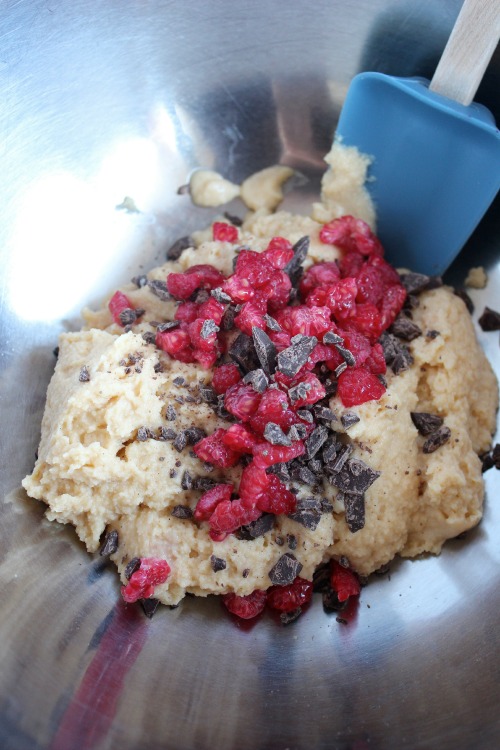 But enough about me and how I am crazy in love with my new apartment and onto todays recipe.
Coconut Raspberry Dark Chocolate Muffins
You guys these muffins are to die for.
They are light, fluffy and subtly, yet perfectly sweet. Packed with bursts of sweet, juicy raspberries and studded with delicious little, antioxidant rich bites of dark chocolate chips.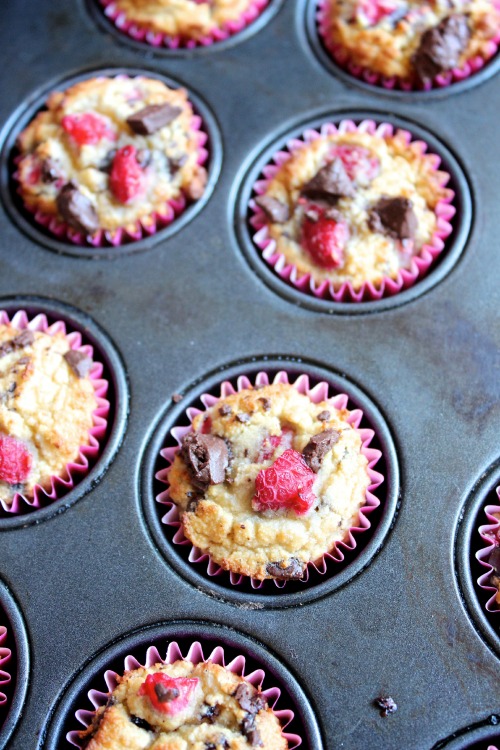 Secretly healthy, paleo friendly, low carb and grain free.
These Coconut Raspberry Dark Chocolate Muffins will just melt in your mouth.
They are all natural with no refined flours or sugars added. Sweetened naturally with a splash of vanilla extract and a drizzle of maple syrup oh and we can't forget about that incredible coconut flour.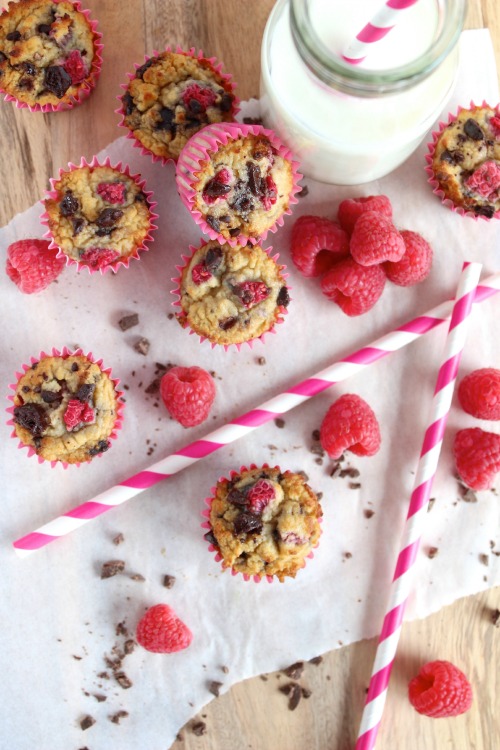 I just love the subtle sweetness that coconut flour brings to these muffins. They don't actually taste coconutty (←yes thats a real word ;)), the flavour is more vanilla than anything but the coconut flour makes these Coconut Raspberry Dark Chocolate Muffins so light, tender and just down right delicious!
When you are making these muffins the batter will be super thick, don't freak out it's supposed to be. It's part of the magic of the coconut flour.
Oh and speaking of the magic of the coconut flour, once these muffins are baked they kind of have a slightly crispy, sweet, crumbly, streusel type top on them.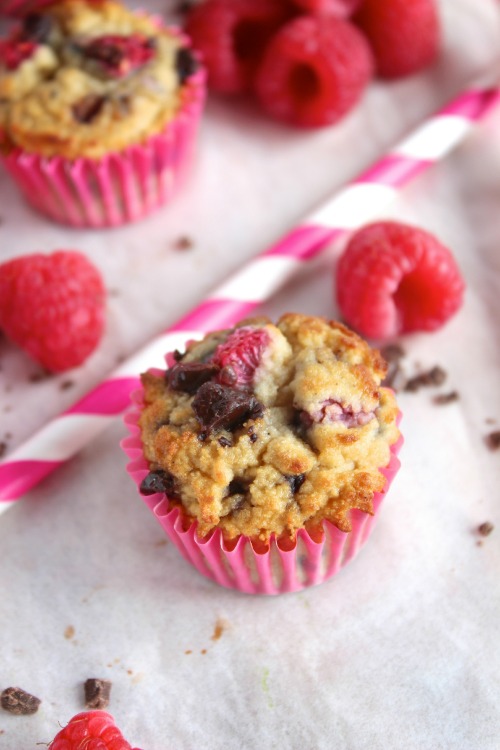 Ugh so, so good!
These muffins are perfect for anytime of day.
A guilt free mid morning treat while you catch up with a girlfriend over coffee (or just as you enjoy a quite moment to yourself)
A perfect little post workout treat.
The perfect late afternoon, pre dinner pick me up
Or the perfect end to a perfect (or not so perfect) day.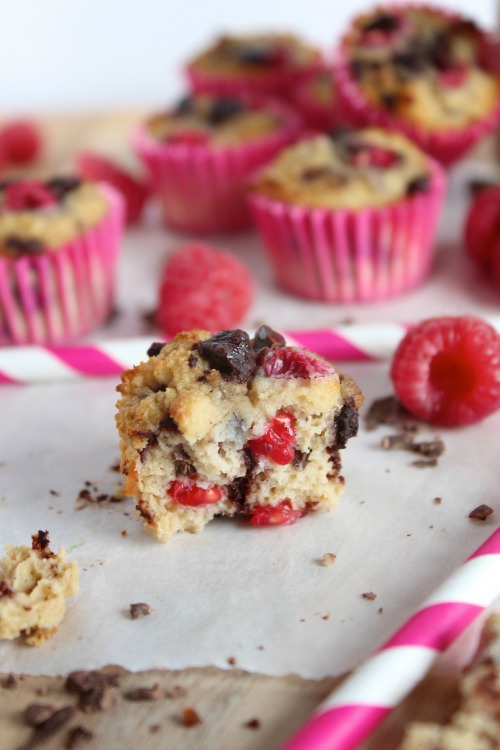 Oh and they are also nut free which means you can safely pack them into little (and not so little) lunch boxes and send them to school (or work) with little ones (and spunky husbands and wives) as an extra special treat. Parties will be thrown in your honour #justsayin
Secretly healthy, all natural Coconut Raspberry Dark Chocolate Muffins. Light, sweet, vanilla spiked muffins that are bursting with juicy raspberries and studded with dark chocolate chips. They just so happen to be low carb, paleo friendly and grain free but most importantly insanely delicious!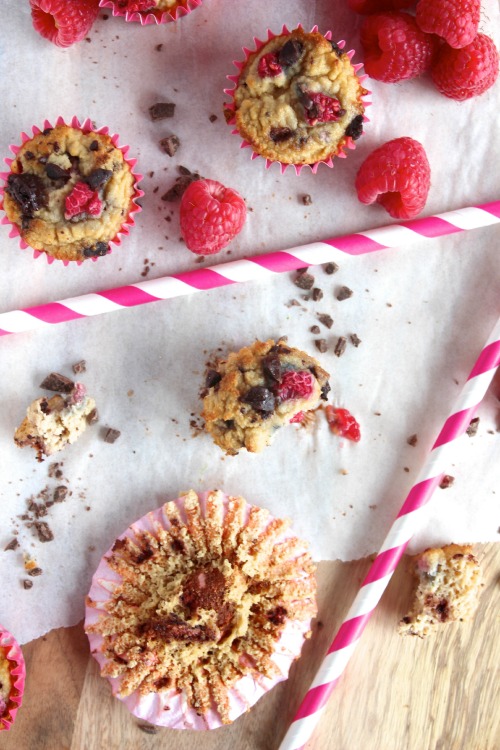 A huge, huge shout out to the incredible Teresa Cutter for sharing yet another winning recipe.
Oh and FYI – these babies also freeze really well so you might wanna go ahead and make a double batch because I assure you the first batch will disappear in the blink of an eye.
Make them, eat them, love them
Coconut Raspberry Dark Chocolate Muffins


This recipe originally shared by the incredible Teresa Cutter, barely adapted and re-written in my own words
Makes approx 21 subtly sweet, paleo friendly, grain free, low carb, simply divine raspberry, dark chocolate mini muffins

Ingredients -

3 eggs

2 teaspoons of vanilla extract

2 tablespoons maple syrup

1 Tablespoon of coconut oil

1 Tablespoon of warm water

1/4 cup coconut flour

1 teaspoon baking powder

1/2 teaspoon of baking soda

1/4 cup of raspberries, fresh or frozen – roughly chopped

1 Tablespoon of dark chocolate finely chopped

Method -

1 – Preheat oven to 175′C (350′F) – Line a mini muffin tray with paper cases and set aside.

2 – Place eggs, vanilla, maple syrup, coconut oil and water into a medium size bowl and whisk until well combined.

3 – Add your coconut flour, baking powder, baking soda and salt and stir to combine. The batter will be very thick, go with it

4 – Add 3/4 of your raspberries and 3/4 of your chopped chocolate and stir to combine.

5 – Spoon the batter into your prepared muffing tray (I used approx a heaping teaspoon for each) then sprinkle a little of your remaining raspberries and chopped chocolate over each mini muffin.

6 – Bake for 8-10 mins until cook through. The tops will be deliciously golden and should be firm yet spring back a little when lightly pressed and a tooth pick should come out clean or have just a few crumbs attached when inserted into the centre.

7 – Allow to cool for 5 mins in the muffin tray, then transfer to a wire rack to cool completely – That is if you can resist inhaling the entire batch as you transfer each delicious little muffin from muffin tray to cooling rack that is. Note – this will be an extremely difficult task. You have been warned.
Enjoy xoxo
_______________________________________________________________________________
Question of the day -
If you could live anywhere in the world where would it be?
For me it's would be dear old Denver Colorado ♥
Related posts: