This was a recipe I had scribbled down from an old magazine or online somewhere, I have had it for so long I'm not 100% sure where I stumbled across it. I had actually forgotten I even had it, how rude of me I know 😉
There we were, one very cold and windy morning. Our little lady would have only been a few months old at this stage and her Nana was coming for a visit. We had planned to go to a courtyard cafe but on such a cold and windy day, this Mama was not taking her sweet little cupcake out of the cozy apartment.
I started to dig through my multitude of recipes to find something new to bake, it was then that I re-discovered this wonderful recipe I had wanted to try all those years ago. Little did I know it would become a family favourite.
Its very simple, but so comforting. There is nothing quite like the sweet scent of cinnamon sneaking out of your oven and surrounding you in the kitchen. Pair that with this basic but brilliantly delicious cream cheese frosting, and you are in for such a treat.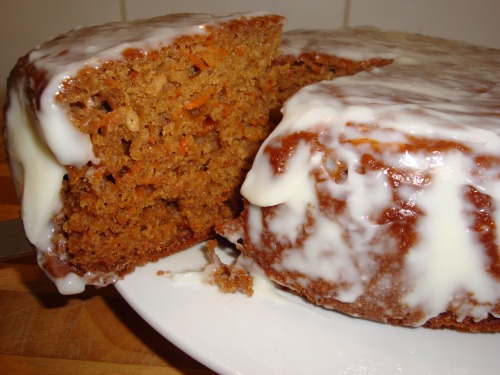 Carrot Cake
Ingredients –
2 carrots
1 cup self-raising flour
1/2 cup plain flour
1 tsp bicarbonate of soda
1 tsp baking powder
1 tsp ground cinnamon
1/2 cup brown sugar
1/2 cup apple sauce
1/2 cup golden syrup
1 egg
2 egg whites
1 tsp vanilla essence
Method –
Preheat oven to 175'C (350'F)
In a large bowl combine eggs, vanilla, apple sauce, golden syrup and brown sugar. Stir until well combined, try to ensure there are no lumps of brown sugar.
Sift flours, baking powder, baking soda and cinnamon over egg/sugar mix. Stir until well combined.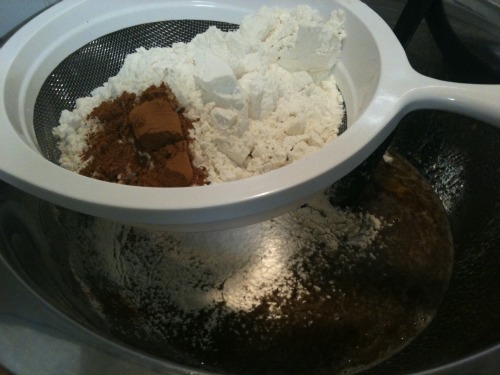 Peel and grate carrots over batter then mix well.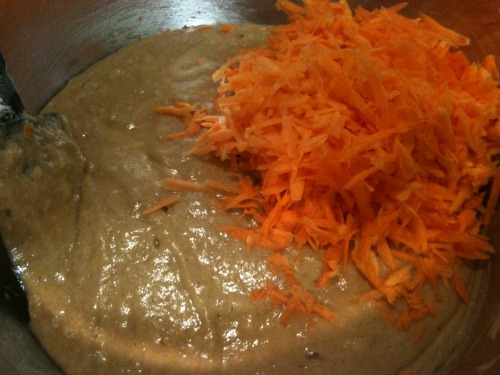 Pour batter into a round cake pan.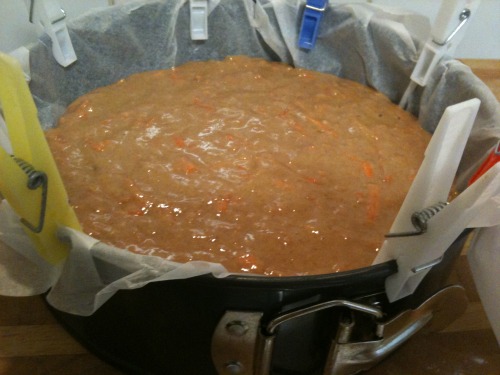 Lightly grease a sheet of foil and make a tent over the cake (from previous experience if you don't do this the edges and top have a tendency to burn or dry out. This tent ensures a perfectly cooked and extremely moist cake)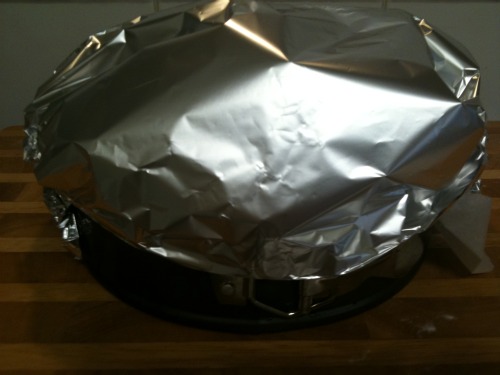 Bake at 175'C (350'F) for approx 60 mins, then remove foil and bake for a further 3-7 mins or until wooden skewer inserted into centre of the cake comes out with just a few moist crumbs attached.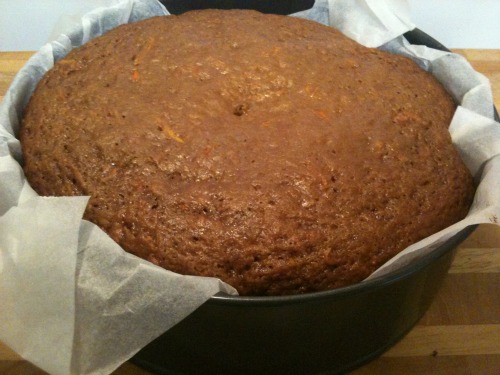 Set aside to cool.
Now for the cream cheese frosting –
Cream Cheese Frosting
Ingredients –
3 Tbsp cream cheese, at room temp.
1/3 cup icing sugar
Method –
Place cream cheese into a small bowl and stir until smooth, add icing sugar and stir until well combined and very smooth.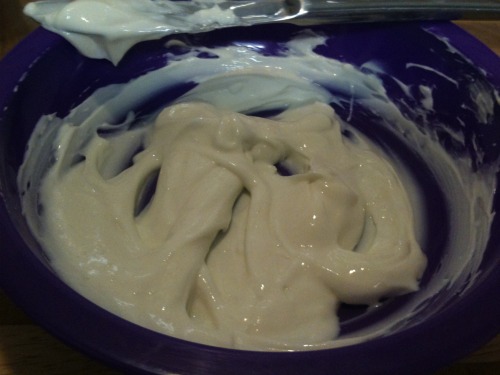 That's it. Frost away and enjoy
Nutritional info (approx.) per serve –
Obtained using fatsecret.com
Calories – 164 cal
Fat – 1.21g
Carbs – 35g
Protein – 3.33g