So I had a crazy strong urge to make this galette.
Once I got the idea I couldn't stop thinking about it.
I had to have it.
Had to I tell you.
Had.
To!
You know what . . . the result . . .
Delicious I tell you, deeeeeelicious!!!!!!!
Tender, crumbly, slightly sweet pastry + delicate, sweet warm apples ÷ your fav jam = match made in heaven.
Oh and then you add a big ol' scoop of vanilla ice cream . . .
Your welcome 🙂
Apple Berry Galette

Ingredients –




Serves 4

3/4 cup (120g) plain flour
2 tsp sugar
1/8 tsp salt flakes
60g butter
a little ice cold water, about 1 Tbsp
1 small apple
Juice of 1/2 a lemon
2 Tbsp Jam (I used St Dalfour 1 Tbsp – Wild Blueberry, 1 Tbsp – Strawberry)
Milk for brushing
extra sugar for sprinkling, about 1 Tbsp

To Serve –

Ice cream

Method –

Sift flour, sugar and salt into a medium bowl.

Add "chunks" of butter and using your hands crumble together until just combined.

it should look something like this ↑

Add cold water a teaspoon at a time until the dough just comes together.

Tip dough onto a floured board

and bring together to form a disc, or a square . . . whatever shape you feel 🙂

Wrap in cling wrap and refrigerate for at least 30 minutes.

Preheat oven to 200'C (390'F)

Take your delicious little apple,

peel it, in one looooonnnnngggg unbroken string if you can 🙂

slice it in half and remove the core.

Take each apple half and slice it super thin

squeeze over some fresh lemon juice.

Roll out the dough until its nice and thin.

about this thin should do it 🙂

Cut the dough in half,

spread 1 tablespoon of jam on each half.

Add 1/2 the apple slices to each half of pastry

fold the excess pastry in so the apples are tucked in nice and snug.

Brush with milk,

sprinkle on some sugar.

Reduce ove temperature to 175'C (350'F)

Bake for 20-25 mins until apple is softened and pastry is golden.

Remove from the oven and while the pastry is still hot brush with a little extra jam.

Slice each pastry in half and serve with a big ol' scoop of vanilla ice cream
____________________________________________________________________________________________
Printable Version –
Apple Berry Galette

Ingredients –




Serves 4

3/4 cup (120g) plain flour
2 tsp sugar
1/8 tsp salt flakes
60g butter
a little ice cold water, about 1 Tbsp
1 small apple
Juice of 1/2 a lemon
2 Tbsp Jam (I used St Dalfour 1 Tbsp – Wild Blueberry, 1 Tbsp – Strawberry)
Milk for brushing
extra sugar for sprinkling, about 1 Tbsp

To Serve –

Ice cream

Method –

Sift flour, sugar and salt into a medium bowl.

Add "chunks" of butter and using your hands crumble together until just combined.

Add cold water a teaspoon at a time until the dough just comes together.

Tip dough onto a floured board and bring together to form a disc, or a square . . . whatever shape you feel 🙂

Wrap in cling wrap and refrigerate for at least 30 minutes.

Preheat oven to 200'C (390'F)

Peel your apple, slice it in half and remove the core.

Take each apple half and slice it super thin and squeeze over some fresh lemon juice.

Roll out the dough until its nice and thin.

Cut it in half, spread 1 tablespoon of jam on each half.

Add 1/2 apple slices per half of pastry and fold the excess pastry in so the apples are tucked in nice and snug.

Brush with milk and sprinkle on some sugar.

Reduce heat to 175'C (350'F)

Bake for 20-25 mins until apple is softened and pastry is golden.

While pastry is still hot brush with a little extra jam.

Slice each pastry in half and serve with a big ol' scoop of vanilla ice cream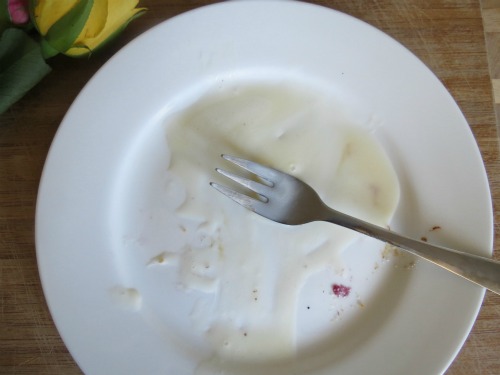 ___________________________________________________________________________________________
Nutritional Info (approx per serve) obtained using fatsecret.com –
Cal – 180
Fat – 2.5
Protein – 3.4
Carb – 38.1
Fiber – 1.6