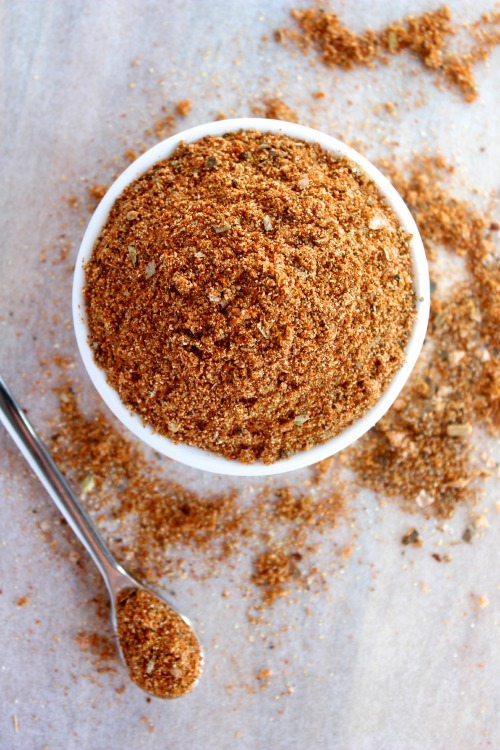 Baby it's cooooollllllllddddd outside!!
Just a few days into winter and all of a sudden the temperate has dropped dramatically!
No gradual, considerate, daily, decline giving you a chance to adjust to the change of season –  just bam – Ice, ice baby!
What do you say we stop, collaborate and listen spice things up a little by making ourselves a big ol' batch of – all natural, quick and easy, healthy, homemade mexican seasoning?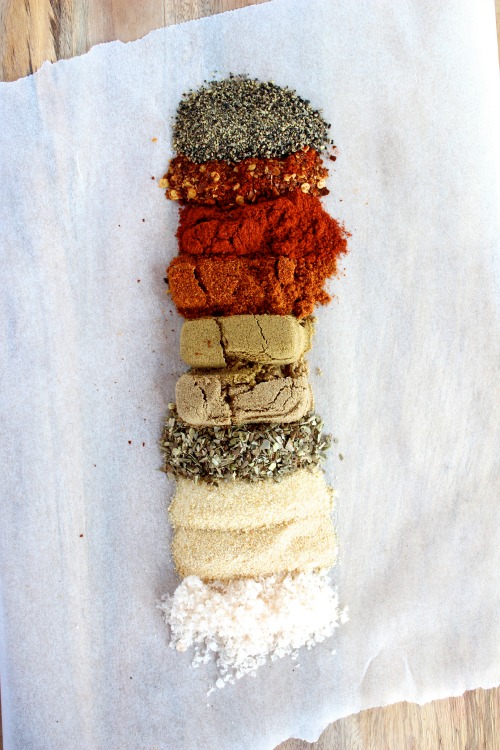 Because who doesn't love a good Mexican spice mix?
Answer = no one!
No one worth knowing anyways 😉
Seriously though, I don't think I have ever met a person who doesn't like Mexican!
Have you?
Maybe I just know all the cool peeps who, like me, love to get their Mexican on?!
Anyways, I made us an insanely delicious, quick and easy, healthy, homemade Mexican seasoning that I just know you guys are going to love, love, love!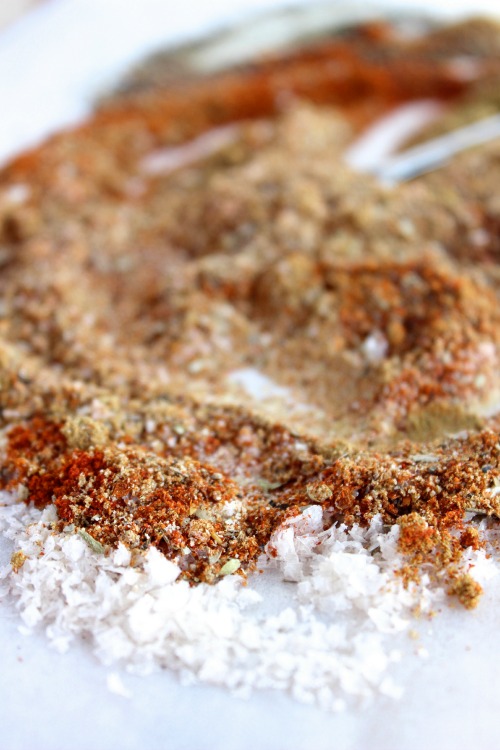 It's all natural, made with just a handful of ingredients that I bet you have on hand already and it comes together in a matter of seconds.
All you gotta do is bust open your dusty, I mean trusty, ol' spice cabinet and you are half way there!
Once you have your spices in hand all that's left to do is, throw them in a bowl (or zip lock bag) give them a little stir (or shake) and you are well on you are good to go.
I mean seriously, how easy is that?!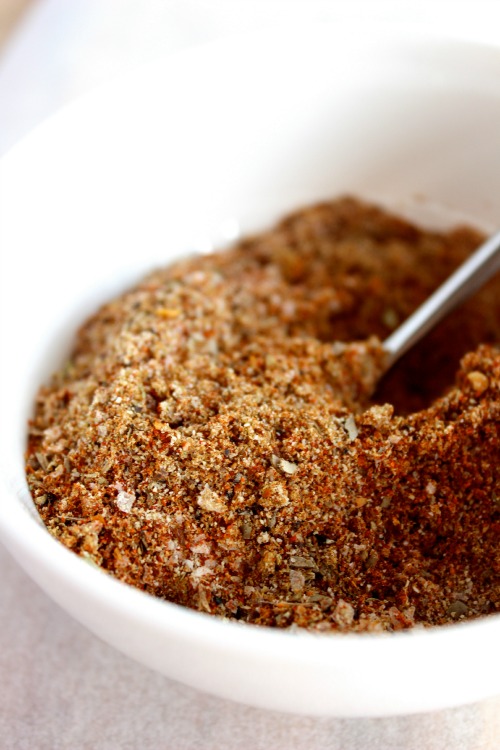 And soooooooooooo much flava flave it's not even funny!
Our Mexican seasoning has an incredible aromatic, earthy depth of flavour thanks to the winning combination of garlic, onion, cumin and coriander.
A sprinkling of smoked paprika adds a touch of deliciously vibrant smoky-sweetness to the mix then, we lighten things up by adding a touch of dried oregano and finish off our feisty little flavour bomb with a cheeky pinch of chilli for a nice kick of heat!
Because Mexican, isn't Mexican without a little heat right?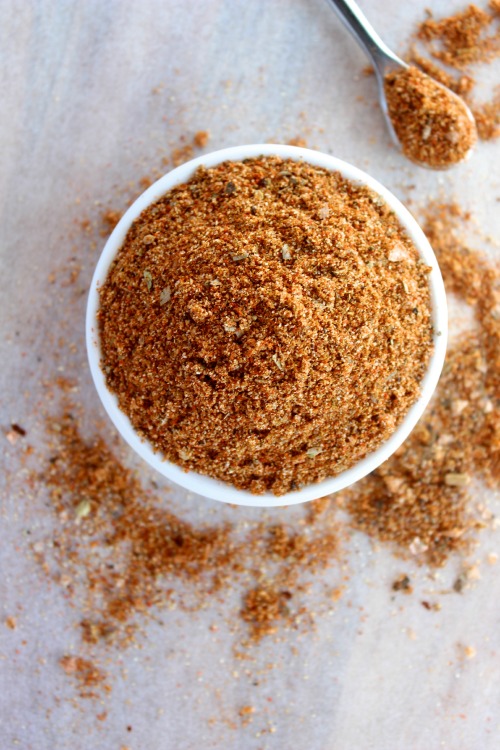 Minimum effort with maximum flavour is what I'm all about baby!
To use your incredible spice mix – simply season your meat or protein of choice with a good pinch of your freshly made spice mix and then go ahead and cook as you would, business as usual.
FYI – Once your meat is cooked, I highly recommend you add a cheeky little squeeze of fresh lime juice just before serving – life as you know it will never be the same!
In my humble opinion, this quick and easy, healthy, homemade Mexican seasoning is, dare I say, better any store bought variety I have tried over the years.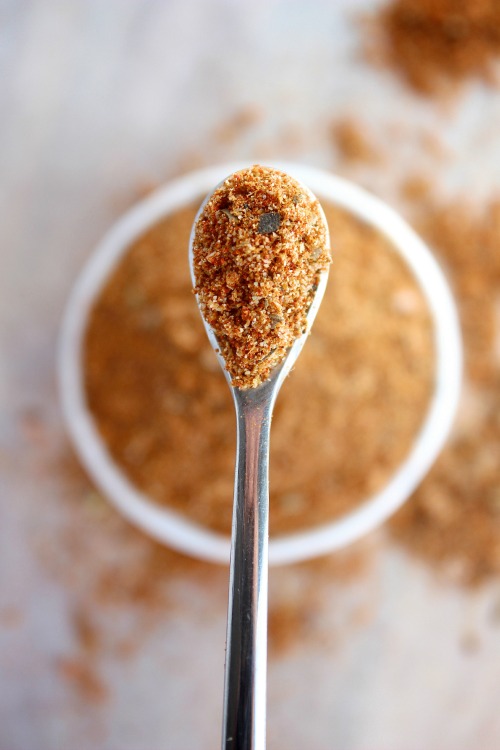 No weird/unknown ingredients, it's not bland or overly salty which often happens with a lot of pre-made store bought spice mixes and it's naturally, gluten free, vegan and paleo friendly. Plus, when you make it yourself it's totally customisable.
If you're feeling feisty and like your Mexican served with an extra kick of heat, no problem – just thrown in an extra spoonful of chilli.
If you're trying to cut back on your sodium – easy, just leave out the salt.
Taste and adjust as you see fit – do what you feel baby, make it your own!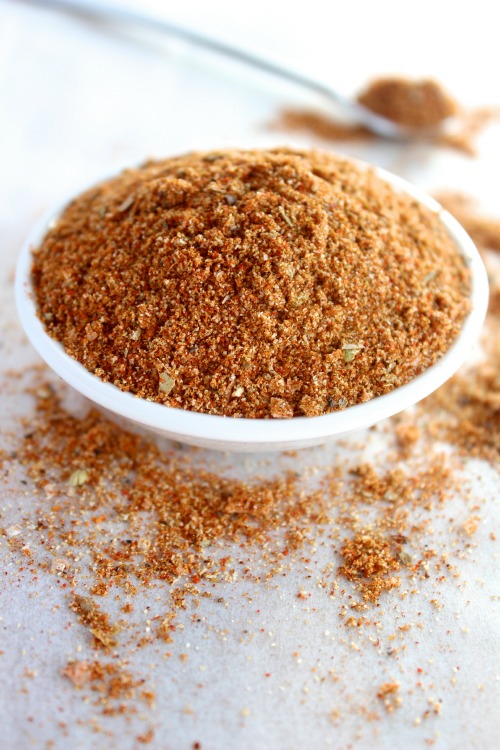 All natural, quick and easy, light, fresh, smoky, sweet, subtly spicy, healthy, homemade Mexican seasoning . . .
Old El Paso, eat your heart out 😉
Make it. Eat it. Love, love, love it
Healthy, Homemade Mexican Seasoning


Makes approx 2/3 cup of all natural, quick and easy, light, fresh, smoky, sweet, subtly spicy, healthy, homemade Mexican seasoning

Ingredients –

1 Tablespoon of smoked paprika

1 Tablespoon of ground cumin

1 Tablespoon of garlic powder

1 Tablespoon of onion powder

1 Tablespoon of dried oregano

2 teaspoons of ground coriander

1 teaspoon of chilli powder (more or less depending on how spicy you like it)

1/2 teaspoon of chilli flakes (more or less depending on how spicy you like it)

1 1/2 teaspoons of salt flakes

1 teaspoon freshly ground black pepper

Method –

1 – In a small bowl or glass jar (or even just a zip lock bag would work) combine all ingredients and stir (or shake) to combine.

2 – Store in an air tight container (or ziplock bag).

3 – To use – Simply sprinkle/rub a little seasoning over chicken, fish or steak and cook as per usual.
Enjoy xoxo
________________________________________________
Question of the day –
What's your favourite spice combination? 
Feel free to share recipes or leave links to recipes in the comments below and if you make this recipe make sure you snap a pic and share it either on the Facebook page or tag me on Instagram or twitter – sharing is caring people 🙂
_________________________________________