So I wasn't planning on sharing any more Easter recipes with you this week and then this happened . . .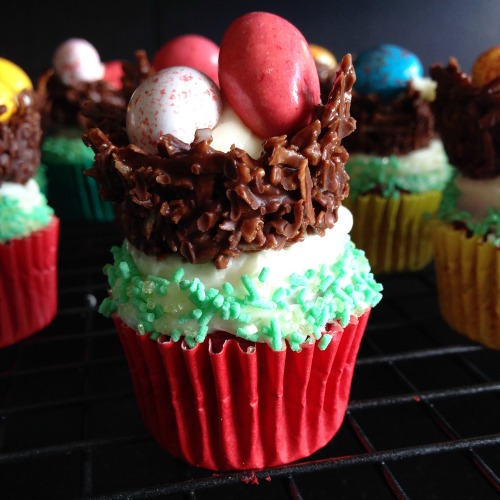 I shared this pic and the recipe details on the Facebook page as well as Instagram and figured that some of you may not be following along there and this was just so delicious and so fun I wanted to make sure you all got a chance to get in on it because Paleo, Gluten Free Easter cupcakes for the win!!!!! 🎉🐰🐣💕😋
Decadent and rich chocolate cupcakes with a creamy, dreamy whipped vanilla coconut cream frosting topped with crisp and crunchy dark chocolate coconut nests filled with a couple of your favorite fun, festive Easter eggs!
You guys need to make these asap!
Seriously delicious and oh so easy, I'm talking once you have your ingredients assembled you can have these babies ready to devour in well under an hour!
Here's what you need –
❤ These double chocolate cupcakes made into mini's – bake for 6-8 mins
🍦 This whipped vanilla coconut cream frosting
🍫 These Dark chocolate coconut nests (filled with a little more frosting and mini speckled eggs)
Once your cupcakes are baked simply spread with frosting and, if you want to add the green sprinkled edge just pour some sprinkles onto a plate and roll the edges of your frosted cupcake in the sprinkles then top with a dark chocolate coconut nest, spoon in a little more coconut cream and pop in a couple of your fave mini eggs and you're done!
So fun, so festive and did I mention delicious?!
All gluten free and paleo friendly – and could easily be 100% dairy free depending on the chocolate chips you use ❤❤❤
So, so excited about these babies, loved be kids young and "old" – go make them already, you know you want to!
_________________________________________
Question of the day –
What's fun and festive Easter treats are you making this weekend?
Feel free to share recipes or leave links to recipes in the comments below and please, for the love of all that is good in this world when you do make your brownies (or any of the recipes you find on this blog of mine) go ahead and snap a pic and share it either on the Facebook page, or tag me on twitter or Instagram. Sharing is caring remember.
Do it, do it You know you want to 🙂
__________________________________________